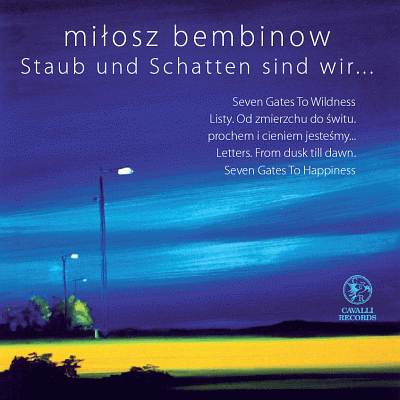 ---
Of course we, as the management of the Künstlerhaus and as organisers of cultural events, cannot actually make artists from different artistic and national backgrounds work together. But we are all the more pleased when our resident artists do take advantage of the opportunities of cultural and human communication we offer and combine their talents in joint projects.
The Internationales Künstlerhaus Villa Concordia often outlines the opportunities for the artists in speeches and publications in such cautious, and, at the same time, optimistic, words as those. This CD is yet another fine example of such a fruitful artistic symbiosis under the auspices of the Internationales Künstlerhaus Villa Concordia: here the music of Miłosz Bembinow meets the written work of Eryk Habowski with Sigrid Nienstedt providing the cover illustration.
Miłosz Bembinow, a composer and conductor from Warsaw, first met writer Eryk Habowski from Ryki and artist Sigrid Nienstedt from Cologne during their stay at the Künstlerhaus in 2003 / 2004. Appreciative of each others' work, and eager to learn more about the other forms of art, they first started working together at that time. Bembinow soon became interested in setting Habowski's texts to music. This fascination with Habowski's work continued even beyond Bembinow's tenure as grant holder.
The Künstlerhaus is pleased to present Milosz Bembinow 's music now as part of its Edition Villa Concordia. The CD features, amongst others, new works by the successful composer, including some written and already performed to great acclaim in Bamberg.
Bembinow himself conducts the pieces prochem i cieniem jesteśmy… (dust and shadow are we…), composed in 2000, and Listy. Od zmierzchu do świtu. (Letters. From dusk till dawn.) for solo soprano and chamber orchestra with words by Eryk Habowski. Seven Gates To Wildness was written for a concert with the harpsichord player Gerald Hambitzer in June 2004. Its counterpart Seven Gates To Happiness, composed for audiotape in 2001, is also found on the CD along with the first recording of Letters. From dusk till dawn. for soprano and piano.
Bembinow plays with the listeners' expectations. He manages to combine modern texts and traditional forms with ease – which makes listening to his music a pleasure and is partly the reason for his success. Characteristic of his compositions is his search for the one and only authentic and apposite tone colour which in his words goes straight to the heart.
Stephanie Weiß
The International Artists' House
Villa Concordia